The excitement in our child starts peaking up on a Thursday morning. "Mommy, I want to watch despicable me tonight"... And when all she gets is a "hmmm" from her mother... She quips, "Are you a 'despicable me' mumma?"
This baby knows how to get herself across... Any way Thursday night, she is jumping up and down on the couch as we put on the movie...
The movie "DESPICABLE ME" has begun and she giggles, dances ballet with the little girls.
She requests for the umpteenth time to get her a 'fluffy unicorn'.
We are half asleep by now, and we can still here her chanting 'knocked over!!'
This movie is from 2010, but for our little girl, it's a new discovery every weekend...
There is definitely something new in it for her every time she watches it. Be it the name of the minion, or the puppet book, or the fair....
Guess she is inspired by the movie a lot...
She watches the moon more, and realizes that it can't be shrunk. She wants to know where to find a real unicorn. She loves to dance on her toes, and wants to learn ballet. Anytime, mimicking "He's so fluffy, I'm gonna die!!!" and one tight hug melts her tantrums away :-). Well the truth is we enjoy the antics too...It never hurts to ignite the child in you, doesn't it.
Nothing can beat watching Mr. Gru and his minions, the adorable girls Margo, Edith and Agnes, and of course Vector. Even as the bad guy Mr. Gru is an attractive personality. The movie has some hilarious inventions like the minions, the fart-gun, the shrink-ray and the cookie monster. Our favorite is Agnes and her fluffy Unicorn, the girl is just too cute. Be it the annoying noise that she makes, or the way she clings to Mr. Gru's legs. And how the love from the little girls actually wins over the aspiring "world's greatest villain", who in the end looks super-duper cute in his pink space suit.
The world has many "Despicable Me" fans. Here are some inspirations drawn from people who have been inspired by the movie.
Look at these inspirations for parents with kids who dream about the movie all time.
1. "Despicable Me" pages to color, for a quiet-time activity.
2. "Despicable me" learning activities for the vacations.
4. "Despicable Me" Themed parties. They are wow!!
5. A "Despicable Me" cake to set you baking.
6. A special something to make for you child if you can crochet
7. Some paper craft toys to create
8. A despicable me school-lunch.
If you thought this post is all for kids, you are wrong... for the adults who want to let loose the inner child, here you go!!
1. A dedicated "Despicable Me" page
2. A guide to identifying the minions, for the obsessive ones.
3. Free "Despicable Me" icons for your online use.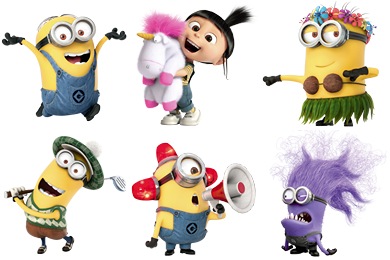 4.
For any fashionista, who is a fan, Here you go...
5. And finally endless hours of gaming with the minion rush!!
Oh well!! We are w
aiting for the weekend to watch it again...and see our daughters eyes light up and her sweet laughter fill our home and hearts...She melts our hearts faster than Agnes...
Knocked over ???!!!


Zain & Farz